Let me share with a you a very simple, and incredibly powerful exercise (the most powerful ones usually are the simplest). If you master this exercise it has the power to revolutionise your business. Seriously.
This is one of the exercises I ran during the recent 4th Dimension Mastery workshop and it resulted in a lot of breakthroughs and Ah Ha moments.
Ready?
Create an Avatar For Your Business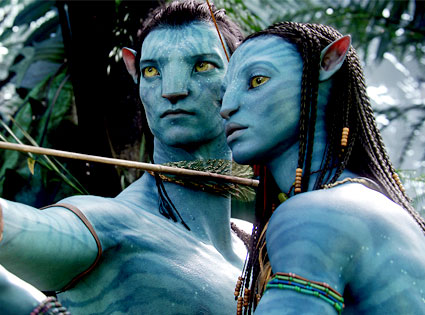 I've heard this term bantered about on the Internet lately and first heard it from Jeff Walker (I'm studying his Product Launch Formula). This is my version and how it relates to my framework for creating a successful internet business, called 4th Dimension Mastery.
What is a Business Avatar?
You may be familiar with the movie Avatar? The human researchers take on the form of the indigenous (and gorgeous) creatures on the moon of Pandora. Or you may be aware of the original meaning of Avatar from the Hindu religion where deities / gods take on the form of humans or other creatures.
When it comes to business, an avatar is an imaginary person who represents the composite of your ideal customer. They are described in such detail that they almost seem real. Real enough for you to have a conversation with.
Well, not a real conversation (they're an imaginary friend, not a real one OK?). But real enough for you to have a one-on-one conversation with when you write your emails, blog posts and sales letters. They are also the person you are talking to on your tele-seminars and videos.
What are the Advantages of Creating a Business Avatar?
If you get the avatar right then your ideal customer will truly resonate with every message you make. They will be naturally attracted to you and may even find themselves thinking "How did she know that is what I am thinking?" It doesn't mean you will be excluding others who aren't your exact avatar but you will get the message across clearly to the majority of your ideal customers.
This is how it impacts on the 4 Dimensions of a successful Internet Business:
1st Dimension: YOU
After you have created your Avatar think to yourself  "Is this a person I want to do business with?".You have a choice you know. If you think to yourself that you'd rather not have their company then you need to look at what type of customers you really want to work with.
2nd Dimension: YOUR CUSTOMER
You need to do research to really create your Avatar. At the end of this process you will be incredibly clear on your customer needs and frustrations. I've given details on how to research your Avatar in the slide driven tele-class I ran today. You can listen to the recordings for the next week and watch the slide show on the replay page.
3rd Dimension: JOINT VENTURE PARTNERS
A JV partner is someone who has a very similar Avatar to you. They are already providing a complementary (though not identical) service to them. Once you are clear on your Avatar it is easy to identify potential JV Partners.
4th dimension: COMMUNITY ENGAGEMENT
This is the dimension where your customer really interacts with you. By always communicating with your Avatar, rather than communicating as if to a blur of many customers, you will attract them, convert them to sales easier and encourage interaction in numerous ways (for example they will be more likely to comment on your blog posts if it feel as if you are talking directly to them).
How Do You Create An Avatar
Firstly, take the time to listen to this 60 minute class that goes into detail for you. It will be 60 minutes well spent.
Your Avatar should be very specific and include things such as:
Gender
Age
Life Circumstances
Income
Biggest frustrations
History
Aspirations
You can even give them a name and find an image to represent them (just like with the Avatar you may choose to represent yourself in a forum or game).
Here's Mine
To give you an idea, here's one I prepared earlier 🙂 This is an Avatar we created after an intensive survey of my customers last year. I was surprised by our findings (mainly their family situation and interests) which is a good thing in my books. Of course, this is not the profile of every customer but writing to this imaginary person makes my sales copy, blog posts etc much stronger. Ready?
My Avatar (Jenny) is between 35 and 45. She has children who are close to leaving home. She is a professional in that she has education or experience in a career and is actually pretty smart. She wants a change in her life. She doesn't find her career as fulfilling as she would like and wants more lifestyle freedom. She wants to build her own business and is quite frustrated because, even though she knows she is capable, she is overwhelmed with how much there is to learn and where to start. She wants to build a business on her passions and she is driven by more than money. She wants to make a change in the world in some way though finance and lifestyle is also very important to her. Interestingly, she also has an interest in natural therapies, the environment and personal development. She has access to income other than her business income (through her partner, a part or full time position, or home equity) but knows she can't rely on this for too long. She's been learning how to build an Internet business and has taken some action already but is frustrated because she's not making any money from her endeavours.

Sound familiar? Of course, this doesn't exclude people who don't fit this profile. After all, 10% of my customers for Wonderful Web Women are men. But it will only attract those who can relate to my Avatar in some way.
Your Turn
OK Here's my challenge to you. You've got one week to research your Avatar (remember the recording of my tele-class) and post it here below in the comments section. If you don't get it right the first time, that's OK. I'll hang out here and help you refine it further.
The Advantages of Taking Part
You will get some great help from me and others here to nail your Avatar
Your ideal client may visit this post and want to find out more about you (include a link to your web site or Facebook profile if you have one)
Potential JV partners may identify you
You'll get links back to your web site when you comment
Yep, There's Prizes
At the end of the week I will randony choose 3 people who have left comments. They win a copy of my best-selling book "Our Internet Secrets", including the CDRom "How to create 17 in-demand products from just one hour's work"
The person who creates the clearest Avatar will win my book, plus a 30 minute phone consult with me to help move your business to the next level (one-on-one consults are usually only available for my new Diamond Coaching clients).
So, get to it! Can't wait to meet your Avatar.